In at the top — Alex Baalham joins
July 2018
Whitby Wood is delighted to welcome Alex Baalham to the leadership of the practice. He joins fellow directors Sebastian Wood and Mark Whitby in our London office, strengthening our commercial project and technical capabilities.
Alex is a highly experienced engineer — locally and internationally. In the UK, his recent commercial projects include the £96m London Fruit & Wool Exchange project near Aldgate, the 18-storey City office building Creechurch Place, Moorgate Exchange (with complex train and communication tunnels beneath), 5 Hanover Square in Mayfair, and One Moor Lane. UK education projects include Waingels College (CLT-frame school buildings), the St Matthew Academy, and Turing College at University of Kent. He worked on residential buildings R3 and R6 at Kings Cross Central.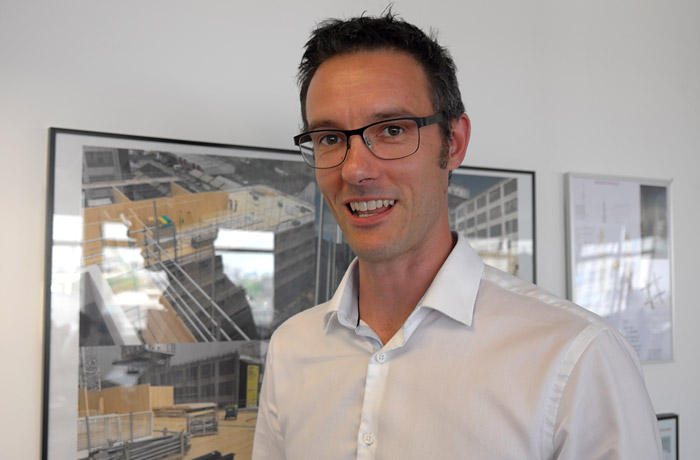 His career has embraced projects in a wide range of other sectors too, including transport, leisure, hotels, arts, maritime and heritage. International work has focused his attention on the Middle East and continental Europe. Projects include Premier City in Kazakhstan, Ajman Marina in the UAE, Msheireb Metro Station in Qatar, and the Maljevik Bay project in Montenegro.
The addition of a third director to the practice opens up new possibilities for Whitby Wood. Alex's strong track record in digital design and project delivery fits perfectly into the current setup and strengthens our ability to embark on ambitious projects in the UK and internationally. He has worked with Seb and Mark before — it's a terrific match.
Alex is based in Cambridge, where he already has several completed projects (including new headquarters for global technology company ARM, and the Maurice Wilkes Building in St John's Innovation Park) — opening up the future possibility of Whitby Wood establishing itself there. We are currently working on scheme review and project delivery for an Aparthotel in Milton Road, Cambridge.