Maypole design competition win : ScottWhitbySTUDIO + Whitby Wood
January 2018
ScottWhitbySTUDIO and Whitby Wood have won the London Festival of Architecture's international competition for the design of a temporary modern maypole to be installed in central London this summer.
The winning tensegrity structure is described by the organisers as a glistening spectacle of pioneering design and engineering.
The maypole is to be installed outside the church of St Mary-le-Strand, which is built on the site of a 40m earlier version — London's tallest — erected in 1661 but gone by 1713, and will be a focus for this year's Festival events in June. The competition, organised by the Festival in partnership with the Northbank BID, attracted over 30 entries, from architects, designers, artists and engineers.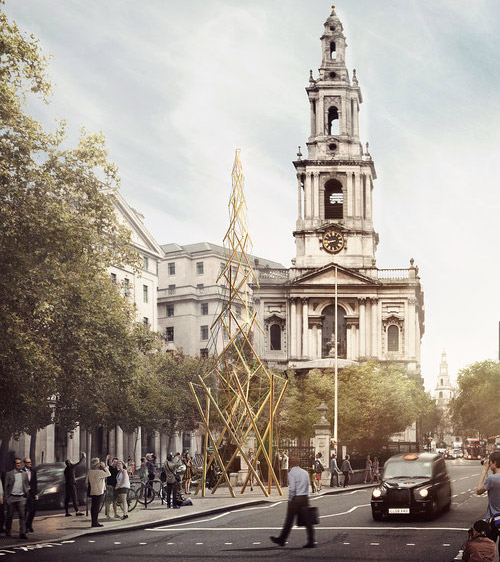 Using golden compression poles and coloured steel wire, the design of the reinvented maypole draws on the city's built architectural forms, such as the historic church in the Strand, and the city's history in the shape of Skylon, a temporary tensegrity structure (engineer: Felix Samuely) built for the 1951 Festival of Britain. The ScottWhitby/Whitby Wood tower is composed of 32 individual maypoles, one representing each of the London boroughs. The intention is for these to be donated to schools and community organisations across the capital at the Festival's end.
The structural principle of tensional integrity, or tensegrity, is based on the idea of using the compressive strength of a series of independent components held in place by a continuous tension net. All the elements work together in a stable configuration, with the net cables pre-stressed. Tall lightweight but rigid structures that appear to float are possible using this system.
The designers are structural engineer Mark Whitby and architect Alex Scott-Whitby — a winning father and son duo.
LONDON FESTIVAL OF ARCHITECTURE : 1-30 JUNE 2018
https://londonfestivalofarchitecture.org