Piling to start at Hoxton site
July 2020
Secant piling starts on site in August for a mixed-use redevelopment in London's Hoxton that we are working on with client Thornsett and architect JSA. The new seven-storey building includes a double-height space for church and community uses, and residential and commercial units. Site constraints include asset protection considerations and Crossrail 2 route planning.
The site, in Penn Street, just north of Shoreditch Park and not far from the Regent's Canal, was home to a community centre and a house (both relatively recent) behind retaining walls. Wrapped around it is an open-air car park and its access ramp. The redevelopment re-uses and expands the existing basement level, inserting secant piling around most of the perimeter and modifying a stretch of retaining wall beside the ramp. We developed a king post solution using driven steel posts that knits the wall into the new retaining system — instead of bringing in fill to isolate it from the new works.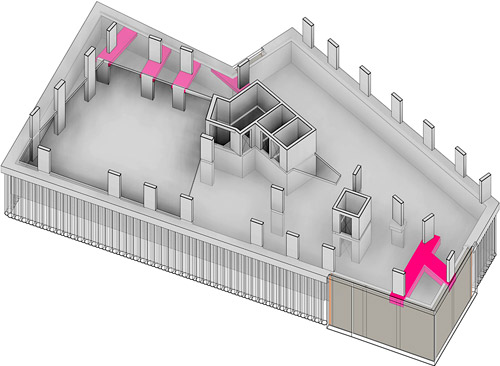 Further challenges include a Thames Water trunk sewer with a 3m exclusion zone that runs parallel to the northern site boundary, and the the proposed route of Crossrail 2, which cuts across one corner of the site. Both issues required ground movement assessments. The new building is founded on a 900mm thick concrete raft, a solution that avoids deep piling and any impact on the sewer, and keeps the new structure away from the Crossrail tunnel vertical protection zone.
The Penn Street building is concrete frame, with a step-back at fourth floor level, and 225mm thick flat slabs and a stability core. Several areas of transfer structure are included, keeping spaces column-free in areas such as the double-height zone. We are providing structural, civil and geotechnical engineering. Silcock Dawson is the building services engineer.
CARBON REDUCTION MEASURES : basement retaining wall re-use, minimised slab depths
Models : Whitby Wood