Planning approval granted for Fairfield Homes project
May 2020
Brick By Brick's Fairfield Homes project for inner Croydon has been granted planning approval by the local council. We are collaborating with MICA Architects and Common Ground Architecture on the design of its five residential buildings, one of which is a 29 storey tower.
Whitby Wood associate Tuan Huynh-Quoc is elated by the news: "We are very happy to be working on this project. It's quite special and exciting. We have been doing a quite a few projects in Croydon — a number with Brick By Brick — and we're pretty passionate about the area. It's great that Fairfield Homes has reached Stage 3 and now has momentum."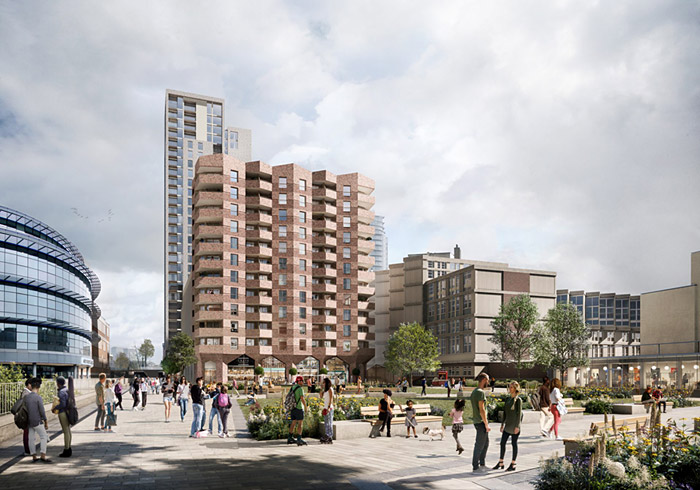 The scheme is part of an overall masterplan for the quarter, which includes local landmark Fairfield Halls concert venue, now refurbished. The site, once occupied by a car park building, is bounded by Network Rail rail tracks, Croydon Magistrate's Court, an existing car park structure, Croydon College and Fair Fields public open space. The five residential blocks share a basement and podium, and the project includes improved public realm areas and pedestrian links — an existing modified bridge over the train tracks will link to the podium and create pedestrian access to nearby East Croydon Station.
The concrete frame blocks range from seven storeys to the 29 storey tower, creating 421 new homes. All are designed by MICA, except for one medium-height block designed by Common Ground, Brick By Brick's in-house team. The building services design is by Hoare Lea. Scheme features include 40 apartments designed for wheelchair users, over 780 cycle spaces, retail areas, an NHS health centre, landscaped open space and a children's play area.
Engineering challenges include the height and location of the tower, which is above-average height for London and requires consideration of the potential dynamic behaviour. Its position next to the railway tracks has also led to the commission of a vibration study. The site-wide basement, with different conditions at each boundary, is a challenge too. Party wall issues, adjacent structures, and Network Rail protection orders plus substations and ground cables all come into play.
Brick By Brick : https://wearebrickbybrick.com/projects/fairfield-homes/
Among the other projects we are working on in the Croydon area is the Queen's Quarter (Taberner House) residential high-rise project. Above is a sketch of central Croydon, showing our current projects.
project renderings : courtesy Brick By Brick