Progress at Preston Barracks site in Brighton
April 2020
It's great seeing progress on site, isn't it. Whitby Wood's Brighton team has received the latest site pictures from our client Henry Construction, showing progress on the Preston Barracks residential development designed by Whittam Cox Architects for Optivo. Four of the scheme's eight buildings are well above ground, with seven substructures in place.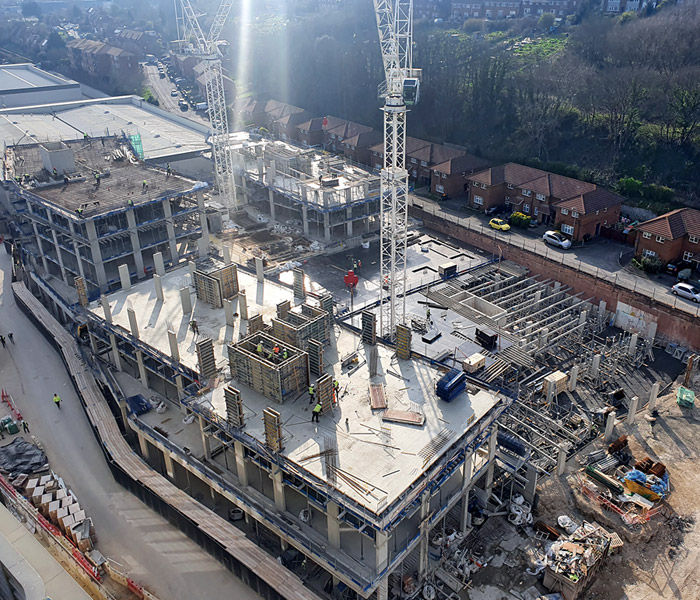 The site is located in the Moulscombe area, near the University of Brighton. The residential complex of more than 360 units will be a central feature of the new Lewes Road hub, currently also underway. The fast-track construction programme for Preston Barracks presented significant challenges for design co-ordination. Working closely with the whole project team, our Brighton engineers developed structural designs that maximise materials efficiency as well as programme time. Piling began just a few weeks after Henry gained possession of the site.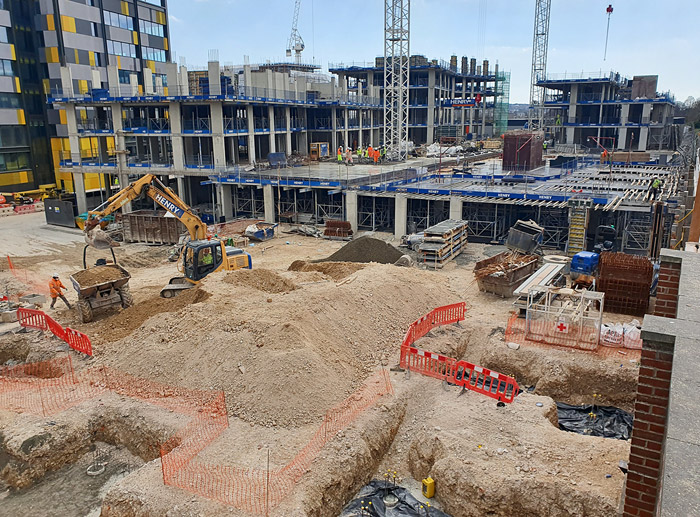 Design challenges included the presence of adjacent railway lines, which meant additional slope stability works to ensure that Network Rail assets were not adversely affected. Together with Henry and geotechnical engineer A-squared, we assessed the re-grading of the embankment behind one of the new blocks and made sure the ground works were slotted logically into the construction sequence, as access for large machinery will be restricted once the building is complete.
Further challenges turned up during construction in the form of undocumented ground anomalies, such as the two 2.1m diameter, 20m deep brick-lined wells that were found to be situated directly below two of the building stability cores. Our research into their origins discovered that they, along with associated tunnels, were constructed for the extraction of water from the Lewes chalk aquifer for the Bright and Hove catchment area. They are now redundant and have been decommissioned as part of the current works. To avoid delay to the programme, we devised transfer pile caps that span the wells but maintain access. The positioning of piles encircling the wells has been calculated to avoid extra weight on the ground adjacent to the brickwork — any surcharge could have caused collapse.
Optivo : www.optivo.org.uk
images : courtesy Henry Construction