Rural open air theatre project
December 2020
The proposed open air amphitheatre and pavilion designed by SWAP Architects for the Lenches Sports Club in the Worcestershire village of Church Lench has been granted planning approval. Whitby Wood contributed to SWAP's submission.
The local community project combines the arts and sports — an organically curved amphitheatre integrated into the existing slope of the site, with a portable timber stage that can be stored in the ground floor area of the new two-storey pavilion, which sits alongside the Club's existing clubhouse, facing a cricket pitch and football ground.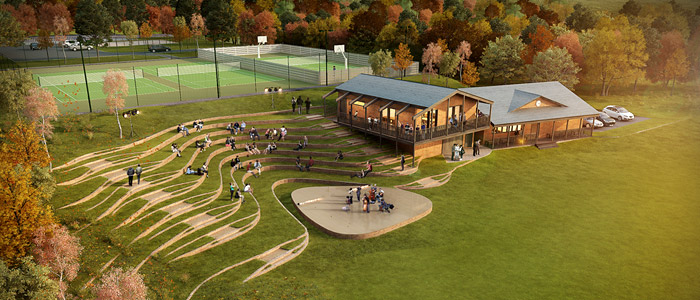 The design of the new building references the classic gabled cricket pavilion, complete with viewing balconies. Its footprint is 90 sq m, with theatre storage space, green room and performer facilities on the upper level, and theatre storage/workshop and groundskeeping storage/workshop space at ground level. The traditional construction methods and materials chosen reflect those of the clubhouse and the local vernacular: red brick, slate roofs and black-stained timber joinery.
Matt Ward, founding director of SWAP, commented: "Delighted to have received planning permission for an amphitheatre and auxiliary performance space in the village where I grew up. The project is being funded by the Wychavon (Local Authority) Community Legacy Grant and the process has been led by a wonderful group from the local community on behalf of the local sports and recreation club."
Whitby Wood associate director Elliott Connolly adds, "It's great to see a record-breaking turn around in terms of timescales for planning approval, and it's clear why, when you think about the benefit this project will have to the local community. Very pleased to have been asked to help out with the engineering to realise such a project".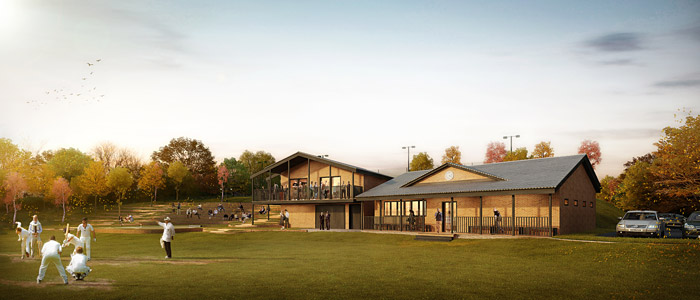 Renderings : courtesy SWAP Architects