Schematic design ready for first of six buildings for TRIL
September 2020
The engineers in Mumbai have completed the structural schematic design for the first of six commercial buildings at
Intellion Park
for TRIL, the development arm of the Tata Group. Intelion Park is a new IT campus in Navi Mumbai, India.
Venkatesh Murthy is heading up the Whitby Wood Pritamdasani project team for the development, which is located on a 15.2 acre site with limited construction access. He explains, "The six commercial buildings are main section of the IT park, which will include a data centre and a hotel. The first of them is Building 5, and we are anticipating it might start on site later in the year."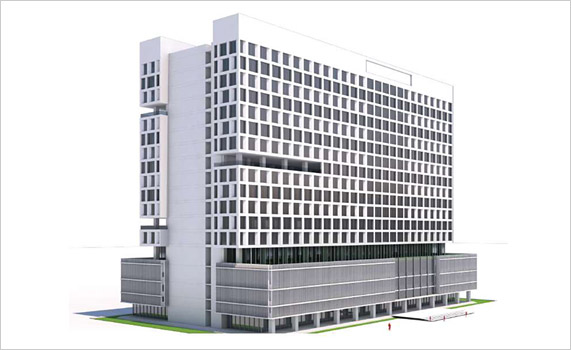 The architect for the project is DSP Design Associates, and the 82m tall Building 5 is a template for the approach all six will adopt, although building heights may vary. The concrete frame of slender columns, central core and end stability walls has been optimised for floor-to-floor heights and maximum usable foor areas, and the weight of the building reduced, which is helping reduced the embodied carbon figures.
Venkatesh: "The slenderness of the column design is satisfying — it means greater carpeted area per floor, as well as less material use."
GROSS EXTERNAL AREA (Building 5) : 98,885 sq m
More on Intellion Park >