Seb and Chris cycle to MIPIM — virtually
May 2020
They made it! Couch potatoes to elite backyard athletes … Whitby Wood directors Sebastian Wood and Chris Murray made it all the way from London to Cannes on static bikes, raising £6,883 for Coram, the UK children's charity.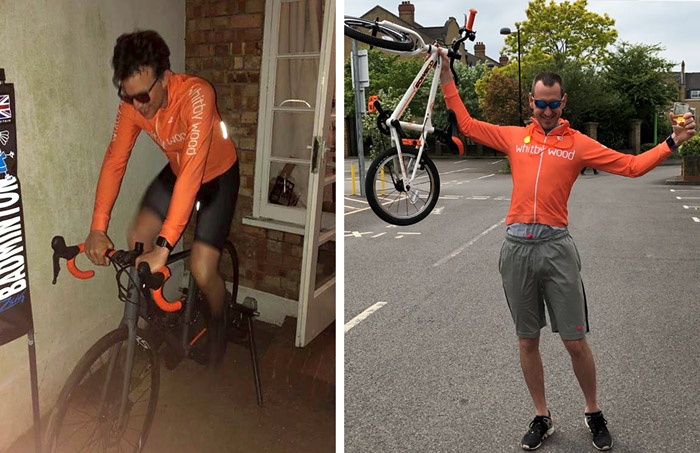 Chris takes up the story …
The best laid plans of mice and men … you know the rest (something about ganging agley).
Sadly, three days before Le Grand Depart, with training completed and a fortune spent on kit, the six-day, 1469km Knight Frank ride to MIPIM in aid of children's charity Coram was postponed, and later cancelled for obvious (and entirely correct) reasons.
Once the dust had settled, the lockdown had kicked in and a few pounds had been added back-on our two intrepid former couch potatoes (turned cycling machines) decided that the £6,883 raised deserved the pain that our generous sponsors had expected, and been promised, when they so kindly donated in support of the ride (actually it was Seb's idea — he made me do it).
The decision was made to each cover the full distance while in isolation, using turbo trainers (static bikes) set up in Seb's garden and in Chris' garage. After agreeing at the outset that this was most definitely, 100%, not a competition, Seb jumped the start on 3 April and set a consistent pace leaping into a seemingly unassailable 114km lead after only 10 days. Chris fought back valiantly, catching Seb on day 17 (no prizes at the end for guessing who wrote this article) before some jousting for the lead up to day 23. At this point, Chris decided to up the ante and left Seb trailing 306km in his long-settled wake by day 32. By 9 May, with only 23km to go, Chris knocked off 22 of those kilometres leaving a single one to go, which he planned to complete on his five year-old daughter's bike on 10 May.
On 8 May Seb woke up with other plans: he cycled an herculean 9.5 hours over the next 36 to finish late in the evening of 9 May a single kilometre ahead — and making a video documenting his exploits. Sadly for Seb, cycling etiquette dictates that the last stage is an unchallenged procession and so it was all in vain. The case is currently going through the International Sports Court of Arbitration so I can't say too much more about it at this point. And anyway it wasn't even a competition.
Only 32 days longer than it should have taken (we have jobs to do guys!) our conquering heroes completed the challenge — and their obligations to the sponsors — and would like to extend a final thanks to all those who so generously donated almost, but thankfully not, in vain.
Seb and Chris