The Whitby Wood Interview
Mohsen Vaziri
by Leonie Gombrich
Whitby Wood is growing fast. As part of our energetic international expansion, we are recruiting engineers with exceptional experience from across the profession. Dr. Mohsen Vaziri joined us in May 2023 with almost 40 years' experience of geotechnical engineering for challenging urban environments, and a particular focus on identifying sustainable design solutions. Excited to be part of a young, engineer-led practice, he's got big plans for expanding in-house geotechnics within Whitby Wood's growing business.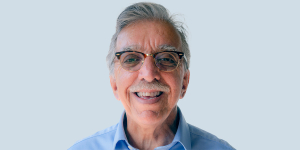 Dr Mohsen Vaziri enjoys a challenge. As a geotechnical engineering expert, he's worked on high-profile projects founded in the trickiest terrain, from deep excavations in constricted and historically-significant metropolitan areas to off-shore wind turbine arrays founded at 40m sea-depths. In his most recent role as founder-director of the geotechnical engineering division at a global consultancy, he managed a 55-strong team that he built from scratch over almost 20 years. Yet, unlike many engineers in comparable management roles, Mohsen still spends more than half his working life directly on projects: a deliberate choice that is rooted in his love of the specialism.
"In geotechnics, you appreciate nature," he explains. "It is a very challenging field to work in and to understand because the earth is not manmade. You can never do things in a 'normal' way: each case is individual. If we look around, we see all these beautiful buildings, but they rely on their foundations — their weakest point, which hardly anybody sees. It's in the soil; the soil is part of nature, and that makes every project unique."
"… the earth is not manmade. You can never do things in a 'normal' way: each case is individual."
Those beautiful buildings have included the new BBC New Broadcasting House in central London, and the British Museum, home to priceless artefacts from around the world. Mohsen was geotechnical director for projects with deep foundations in immediate proximity to both, and thus responsible for designing solutions that would protect the historic structures and their contents from short-term vibration or longer-term harm caused by movement of the soil. His fascination with geotechnics has frequently found him pushing at the boundaries of construction knowledge, whether investigating the feasibility of reusing foundations or contributing to the emerging technologies involved in offshore windfarm construction.
Mohsen appears unfazed by such challenges, and his reputation for unflappability makes him smile. "My appearance of calm is mentioned quite often by my colleagues," he acknowledges. "But when I'm working on something challenging, I can't move away from it. It might be 4:00am and I'll wake up and think, 'We should do it like this.' There is always a solution."
Mohsen now brings his experience of almost four decades of geotechnical engineering in challenging environments to Whitby Wood, where he looks forward to putting his extensive knowledge to use in a new context. He speaks with evident relish about the prospect of being part of a young, expanding practice: "It's an exciting environment in which to set up a new geotechnical capability. They're serious about sustainable solutions, they're working with teams internationally: I'm looking forward to using my experience in these areas to help grow the business."
Given his long-established expertise and the enduring satisfaction he has found in such a complex discipline, it is surprising to learn that the future Dr Vaziri was, initially, "hopeless at secondary school." As a young teenager growing up in Tehran, he preferred whizzing around town on his little motorbike, and was far too fond of his freedom to knuckle down to any studies. Eventually, his exasperated parents acquiesced with his wish to leave for England. It turned out to be a sensible decision for, as Mohsen puts it, "Maybe when you go somewhere else and try to live on your own, you start to take responsibility."
Finding that he was good at maths and physics, he applied himself sufficiently to gain a place at the University of Glamorgan (then South Wales Polytechnic) studying Civil Engineering. It was by lucky chance that the course at Glamorgan was excellent for geotechnics. As part of his undergraduate degree, Mohsen spent time on site, involved in soil testing and analysis for a highway outside Cardiff. "It was soft ground and a highway involves dynamic compaction," he reminisces. "I liked it."
Despite enjoying this first taste of hands-on geotechnical engineering, for Mohsen the penny didn't drop immediately. Instead, he went on to the University of Surrey to undertake a Masters degree in Bridge design. "…because bridges are quite exciting," he says. "But I was sitting in class and I realised halfway through that I was enjoying the foundations most of all. That was the part of the bridge design that really interested me."
"And here's where the good teachers come in to my story," he continues.
Professors Chris Clayton and Noel Simons, both involved in Mohsen's MEng course, spotted his aptitude for geotechnics and urged him to pursue a PhD in the subject. Mohsen stayed at Surrey where he spent more than three years working on aspects of the compressibility of sand. He was hooked on geotechnics for life.
Thus began three decades working for major consultancies on projects around the world. As project engineer and then senior engineer with his second employer, Alexander Gibb & Partners, Mohsen worked on transport projects including Waterloo International Terminal, the Limehouse link, the Black Country Spine Road and Channel Tunnel Rail Link. On the latter, as team leader for the London section, he developed his expertise in geotechnical engineering through London. He spent 14 months as geotechnical manager on the Great Manmade River Project in the Libyan desert, a 500km long water pipe large enough to drive a double decker bus through. "It was tough," he remembers, "but it was a great opportunity."
Having achieved his chartership, he returned to Iran for three years, determined to give his family a taste of the joyful childhood he'd experienced there himself. He ran his own consultancy in Tehran and was "reasonably successful," he says. However, once the aim of connecting his children with their heritage was achieved, the family returned to London.
Mohsen resumed his previous career path, working first back at Gibb and then at Arups, when a new opportunity presented itself. A former colleague of Mohsen's rang him from a consultancy called Whitbybird, later acquired by Ramboll. The practice had already established a considerable reputation as a leading structural engineer and was expanding and diversifying fast: might Mohsen be interested in developing their geotechnical engineering capacity? Indeed, he might.
Mohsen joined Whitbybird, and it was in the role of geotechnical team founder that he discovered a new passion to match his enthusiasm for engineering: that of mentoring and supporting younger engineers.
"The people below me in a firm have always been more important to me than the people above," he says. "I enjoyed building a team so much. Nothing gives you more pleasure than working with young engineers from the beginning and seeing… wow, she's become an associate! And now she's the new director."
"Talk to me in another 20 years … If you enjoy what you do, you're never going to stop."
The profile and level of challenge involved in the projects offered by Whitbybird, and then Ramboll, were also crucial in keeping him thoroughly engaged for almost 20 years. How, then, did Whitby Wood manage to tempt him to leave his established role and join forces with a practice that's a relative newcomer?
"They are first class engineers," he says of his new colleagues. "At Whitby Wood, engineering comes first. That matters to me. And I have worked with my co-directors before: I have happy memories of working together on some of my most iconic projects. I'm looking forward to helping them grow and diversify their business. Whitby Wood is going to go places, and it's great to be part of that."
"Talk to me in another 20 years," he concludes with a smile. "If you enjoy what you do, you're never going to stop. I always say to people when they come to interview: 'You're going to spend 10 hours in this office every day – if you don't love it, you shouldn't be here.'"
The Whitby Wood Interview
May 2023