The Wiltern gets planning approval
May 2020
Amro Real Estate has announced the granting of planning approval for The Wiltern, a new residential project located behind the Hoover Building in the London Borough of Ealing. The design, by architect HTA Design, references its heritage-listed neighbour in its Art Deco lines.
Whitby Wood associate Elliott Connolly commented: "We are delighted that the project has achieved planning success. Our engineers look forward to working with Amro, HTA and the rest of the design team in the next stage of delivery."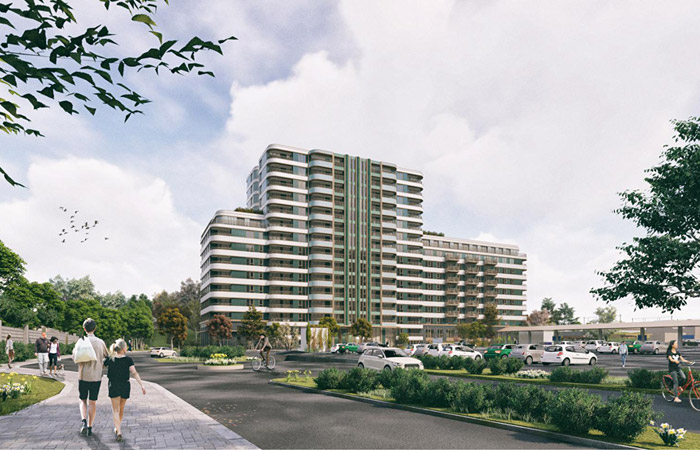 The concrete frame Wiltern complex includes 278 apartments in one, two and three-bed configurations. The highest level is 16 floors up, with the top two floors containing a gym, and a two-storey high lounge at ground level. A new basement carpark will tie into alterations to the existing Tesco basement carpark that serves the supermarket at the rear of the Hoover Building. Height restraints imposed on the site make our usual approach of designing the thinnest possible slabs in order to minimise embodied carbon, even more appropriate.
Whitby Wood director of operations Chris Murray: "This is a really elegant building and we are thrilled to be working on the structural engineering. It's such a time of uncertainty and projects like this are important … there are no sharp edges on this one!"
Amro Real Estate : www.amropartners.com
HTA Design : www.hta.co.uk
Rendering : courtesy Amro Real Estate and HTA Design