"I picked the right profession!" says graduate engineer
May 2021
Graduate engineer Oscar Williams has just seen the topping-out of his first Stage 4 (technical design) project at Whitby Wood. We asked him if he would share his thoughts on his engineering journey so far.
He has been working with the project team for Hoxton House, a new mixed-use redevelopment in Penn Street, Hoxton in London for Thornsett, designed by JSA Architects. The building's seven-storey concrete frame is constructed over a single-storey re-used and extended basement, which will house a church and community use areas.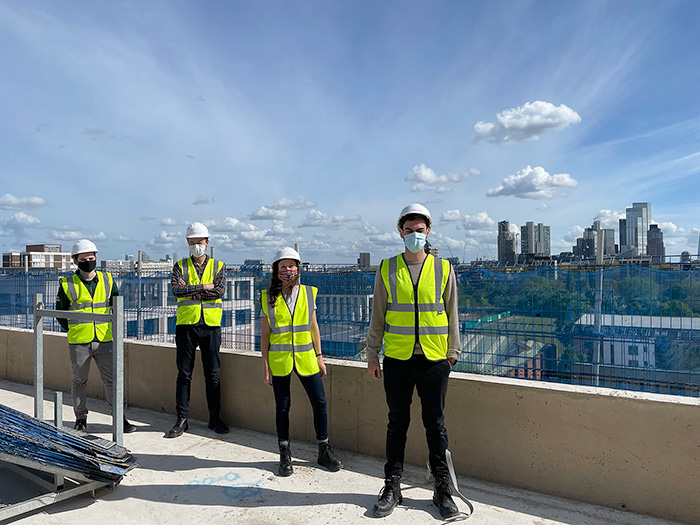 The team on site at Penn Street. From left: Oscar Williams, Tuan Huynh-Quoc, April Shackley, Ahmed Zaki
Oscar joined Whitby Wood in late 2019 as a new graduate. He was the main junior engineer for the project, working on the detailed design of the building, starting with the initial whole-building digital model (ETABS) and progressing to the structural drawings, the design of reinforced concrete elements, reinforcement intent drawings and contributing to the checking processes.
What has he learnt? He says … "Technical design skills are the main thing, since I either designed or had a hand in designing all of the elements in the building. Many elements I designed were not as simple as they first seemed — I definitely developed my problem-solving abilities, through initially attempting to solve things myself and from observing how my colleagues approached the problems."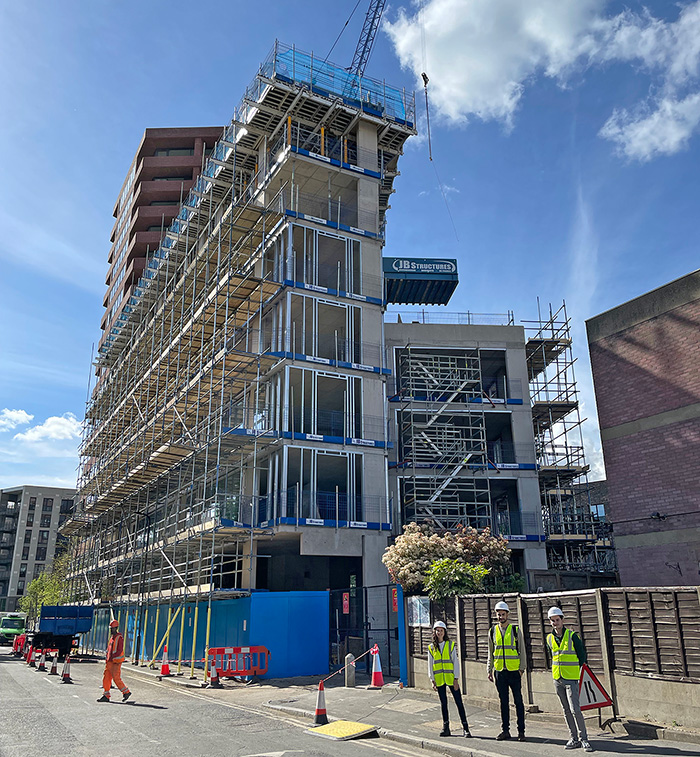 April, Ahmed and Oscar at Hoxton House, London
And how did he feel seeing the project realised in site? "My first thought was not being able to figure out whether the building was bigger or smaller than I had imagined through the drawings. On reflection, I think it seemed bigger and more impressive, which I'm happy about. It was a satisfying feeling walking around the site, knowing that all the hard work had paid off and being able to feel some ownership of the structure. One of the main reasons I got into structural engineering was the thought of the tangible result at the end."
"I've also learnt a huge amount about delivering a project, from the technical analysis and design to the process of coordination with the rest of the project team … and about the collective effort that makes a project a reality. One of the most exciting things to me is realising just how much I've learnt since starting on Penn Street back in January 2020. Now I'm moving into other projects, and I find myself applying the knowledge and techniques I learnt. I can now more-often complete tasks with less guidance — evidence of progress!"
"The other thing I discovered is how much I enjoy the design process and getting stuck into large amounts of detailed design. So even after a year and half of it on Penn Street, I'm looking forward to the next Stage 4 project. It's nice to confirm that I picked the right profession, and that I enjoy my job!"
Find out more about working at Whitby Wood >
photos : Whitby Wood