Whitby Wood and Corbett & Tasker join forces : delivering low-carbon regenerative design
June 2022
We are delighted to announce the coming together of Whitby Wood with structural engineer Corbett & Tasker.
It's a meeting of interrelated skillsets and shared passions, and it will strengthen our combined ability to deliver commercially viable, ecological regenerative buildings. We are assembling an engineering practice that can better serve today's client needs, placing low carbon design, sustainability and building reuse firmly in the mainstream of construction.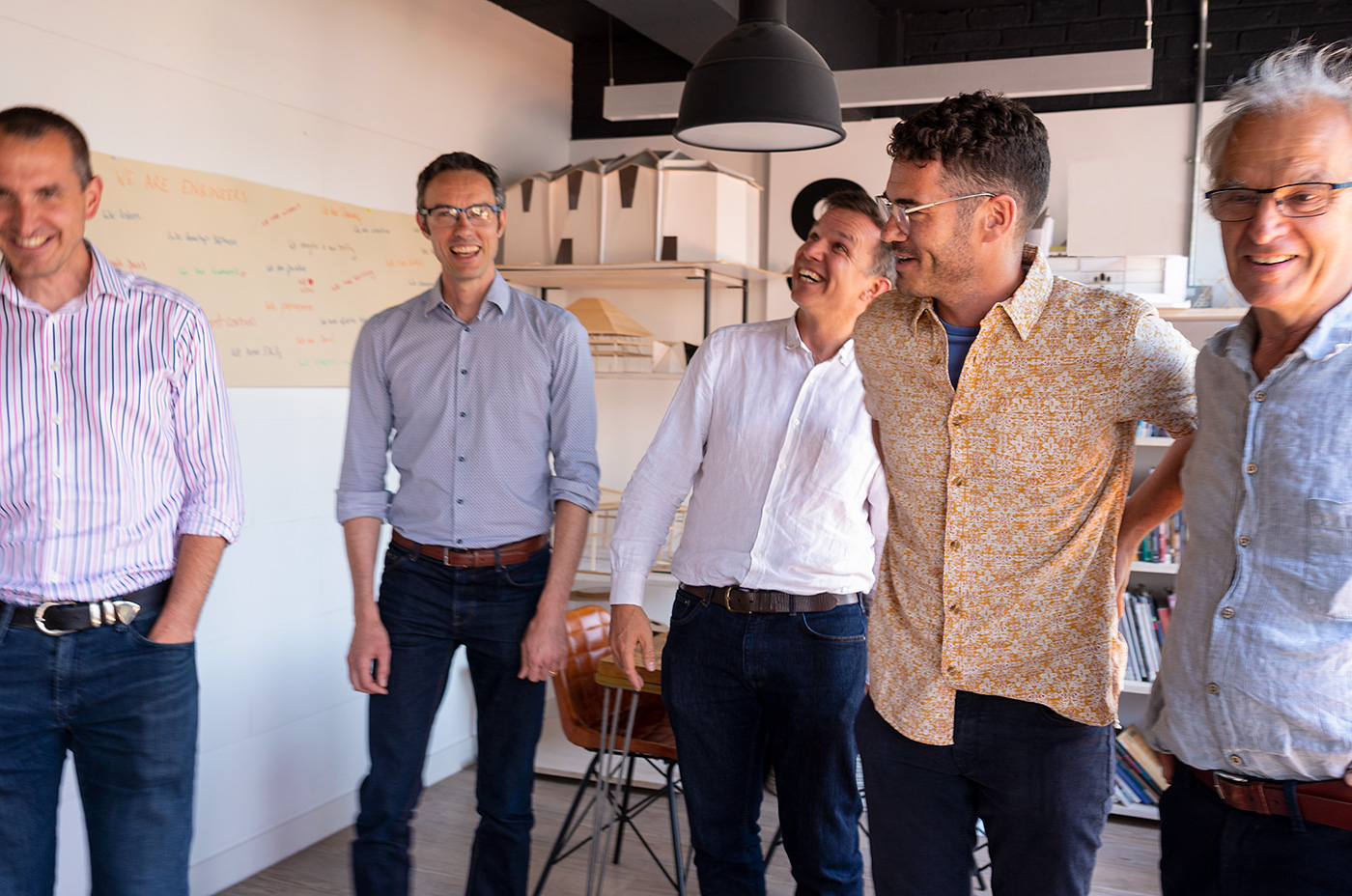 From left: Chris Murray, Alex Baalham, Sebastian Wood, PETER CORBETT and Mark Whitby
Corbett & Tasker has established a strong reputation in the fields of advanced timber engineering, the refurbishment of heritage and existing buildings, and the design of temporary demountable structures. In joining Whitby Wood, C&T's innovative experimental work in form and materials — highly relevant to the challenges we face in the industry — can reach its potential in the commercial sectors. Whitby Wood will also benefit from C&T's experience in designing bespoke structures for architects, self-build projects and Passivhaus design, as well as its approach to experimentation.
Whitby Wood director Sebastian Wood emphasises the need to deliver for clients: "Low carbon regenerative design needs to be the commercially viable norm. We're ready to support clients in this. With the C&T team on board, we are even more ready!"
Peter Corbett, who joins Whitby Wood as an associate director, will continue to lead his team, building on their design ethos of elegance, efficiency and economy. He says, "The joining of the two practices was born out of a realisation that our skillsets are complementary, that our experimental work is relevant to the commercial market, and that we could achieve more in low carbon design — particularly in timber engineering — by working together."
It's a coming together of old friends too — Seb and Peter's friendship and ongoing conversations underpin the joining of the two practices. It's an 'easy' fit.
Whitby Wood now numbers 130 people, 70 of which are based in the UK. David Tasker becomes a consultant.
Award-winning structural engineer Corbett & Tasker was established in 2013 by Peter Corbett and David Tasker — set up to explore innovation in material and form. The practice focused on projects that have environmental criteria and postive social impact as key design drivers. Its work has been widely recognised and is the recipient of awards from industry bodies such as the Institution of Structural Engineers, the Structural Timber Association and Timber Development UK (TRADA)