A warm welcome to Tuan Huynh-Quoc
May 2019
We are very happy to announce that engineer Tuan Huynh-Quoc has joined Whitby Wood as an associate.
A confident and creative structural engineer, Tuan is a fantiastic addition to our team, with an impressive track record of making architectural visions happen. In fact we approached him following the glowing recommendation of an architectural colleague. He is also very much at home in all stages of design and construction.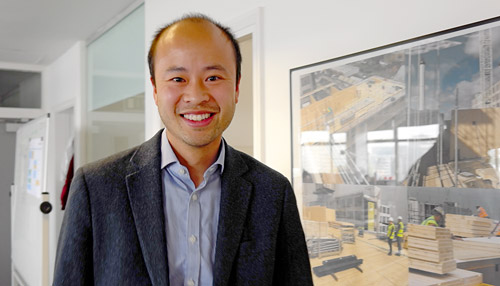 Tuan has more than 12 years' experience in consultancy. His major new-build projects include the John Lewis Partnership building (concrete frame with structural steel diagrid facades, architect: ACME ) in the Victoria Gate complex in Leeds, and the 24-storey residential tower York Place (to mid construction, architect: Patel Taylor) in Battersea, which includes new headquarters for the Royal Academy of Dance at ground level.
He also has refurbishment experience, on projects large and small, including a major project in Piccadilly Circus that brought retail spaces to the Piccadilly Lights building (facade retention, demolition, rebuilding of lower floors while retaining masonry structure above, architect: Perkins+Will), with the lights operational during construction. Other work includes 25 Wilton Road (architect: MAX), a commercial/residential adaptation of an existing 1980s concrete frame building opposite Victoria Station. He has heritage experience too, working as design and project engineer on the refurbishment of the 1913 UK Supreme Court in Parliament Square (Grade II listed, refurbishment architect: ghk).
Tuan trained in Sheffield, graduating from the course that combines engineering and architecture. He has a really good appreciation of the industry from both angles. And from a client's point of view — he is very happy helping clients develop project briefs.