Engineering art in support of The Cup Fund
January 2020
Can you guess how many disposable coffee cups are used in the UK every minute? It's an astonishing 5,555! And only 222 of them are currently recycled. The rest end up in landfill.
Thanks to environmental charity Hubbub, which set up The Cup Fund to finance cup recycling plants, London will gain five new facilities. The aim is to recycle 4 million cups a year. To promote the launch of this scheme, the designers at Mule Studio have created an installation using one minute's worth of cups — demonstrating just how huge this number is. Welcome to Cup Cube, with engineering support from Whitby Wood.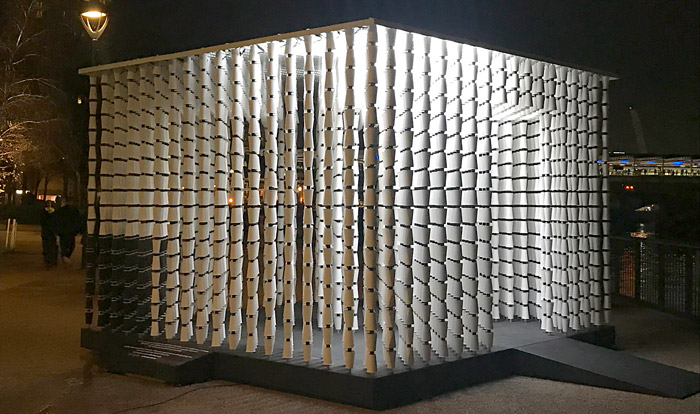 Cup Cube consists of 300 aluminium tubes mounted on a plywood base, with 5,555 disposable cups threaded onto the tubes, making a forest of columns with a walkway through the middle. All are white, except for the 222 currently destined for recycling. We collaborated with mule to generate the sizing of the primary elements and assess overall stability and structural behaviour, and we used our experience with temporary structures to inform the fabrication and installation approach. You can see the results on the South Bank in London, outside Tate Modern, where Cup Cube will remain for several weeks from 20 January before moving to Waterloo Station.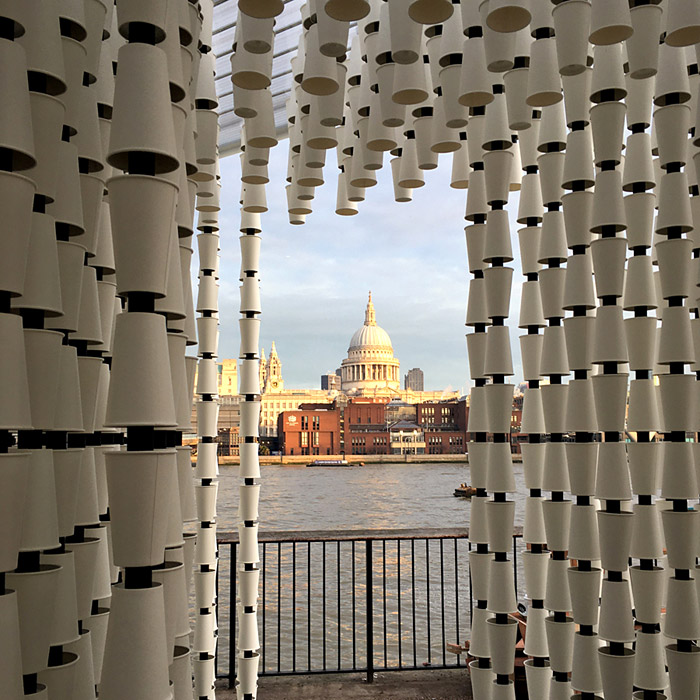 We love art installations, not least because we enjoy the creative design process of working with artists/designers. And they provide opportunities for us to work with new materials and technologies. This installation is particularly special as it is so closely aligned to a positive cause. All 5,555 cups per minute could and should be recycled. Disposable cups require specialised facilities because of their internal plastic waterproof lining, and The Cup Fund's initiatives deserve the support of all of us.
www.hubbub.org
thecupfund.com
www.mule.studio
photos : Whitby Wood