Greenwich Design District : on site
September 2018
Preliminary works have started on site for London's first purpose-built design district on a one hectare riverside site adjacent to the Millennium Dome.
Whitby Wood is providing a full range of engineering services for the Greenwich Design District — a complex of 16 different buildings by eight architects. We are currently working with VolkerFitzpatrick on the delivery of the substructure design for all 16 buildings, and with various subconsultants on the site-wide below-ground utilities installations. The buildings share an efficient approach to the design of their substructures and the provision of buried services. Piling is due to commence in October.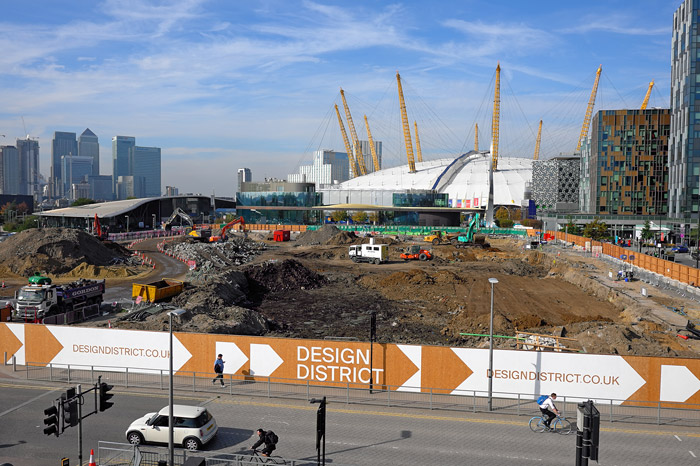 "When ground conditions are poor, as they are at North Greenwich peninsula, it's an interesting structural challenge to develop an efficient foundation solution, especially when also having to consider the effects of the Silvertown Tunnel, which is planned to pass under the site and the buildings in the years ahead", comments Whitby Wood senior engineer Elliott Connolly.
We are also working with contractor Ardmore on the delivery of the superstructures for the project. The design concepts for the buildings are varied, and each employs different materials and structural solutions.
Whitby Wood is collaborating with Wood Thilsted on the geotechnical engineering, Skelly & Couch for building services, and Scotch Partners for sustainability. The buildings are designed by Assemblage (lead), 6a Architects, Architecture 00, Barozzi Veiga, David Kohn Architects, Adam Khan Architects, Mole Architects and Selgascano, with landscaping by Schulze+Grassov.
photo: Whitby Wood